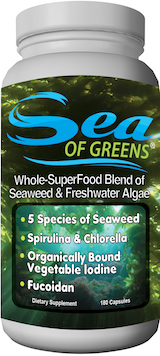 How does Sea of Greens® compare to other products?
Balance of Nature®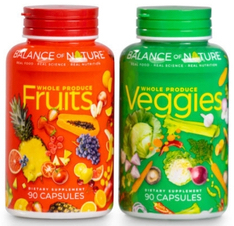 Balance of Nature® is a dietary supplement containing a proprietary blend of 16 whole fruits & 15 whole vegetables.
It is packaged in two bottles - Fruits and Veggies (ninety capsules in each bottle).
The two bottle package (180 capsules) sells for $69.95.
First purchase requires a one-time Member fee of $24.95.
Heavily advertised on TV, Balance of Nature® is promoted using very "over the top" testimonials:
One of their featured testimonial stars (Joe) goes as far as to say:
"Fruits and vegetables are good for you, there's never gonna be a dispute about that".
In another of their commercials founder/chiropractor Douglas Howard emphatically asserts:
"With fruits and vegetables there are no negative side effects".
Contrary to both of these claims, the latest research has shown that many fruits and vegetables (previously thought to be healthy superfoods) are high in oxalate (oxalic acid) which can actually be quite harmful to health:

Harmful Effects of Oxalates in the Diet:

contributes to the formation of calcium oxalate kidney stones

the most common type of kidney stone
associated with high oxalate levels in the urine and plasma

contributes to fibromyalgia and vulvodynia (vulvar pain in woman)

associated with high oxalate levels in the urine and plasma

causes mineral deficiencies, resulting in:

bone disease
abnormal growth
dysfunction of the reproductive system
other disorders

causes depletion of the antioxidant glutathione, resulting in:

impaired ability of the liver to detoxify
lowered potential to preserve brain health

damages cell membranes and mitochondria

resulting in fatigue and energy issues, leading to cell death
triggers nerve cell damage, leading to functional problems throughout the nervous system
creates autoimmune dysfunction by stressing and confusing the immune system.
corrodes digestive system linings, causing leaky gut and/or other gastrointestinal diseases
Oxalate crystals frequently form in the bones, joints, blood vessels, lungs, thyroid, oral tissues, the eyes, the skin and the brain.

often causing dysfunction, inflammation, pain and rashes

Oxalates combine with iron in the bone marrow

reducing the available iron stores needed for normal red blood cell formation
leading to anemia and immunosuppression.

Oxalates can chelate many toxic metals, such as mercury and lead.

Unlike other chelating agents, oxalates tend to trap heavy metals in the tissues.
leading to metal toxicity

Oxalates interfere with the Krebs cycle's glucose metabolism

inhibiting the absorption of essential minerals necessary for optimum health. 

Oxalate crystals cause pain and damage to various tissues, due to their sharp, physical structure, and is associated with increased inflammation.

fibromyalgia
Vulvodynia
gingivitis
dry and scratchy eyes
dry skin, itches and rashes
painful bones, joints and muscles
Considering these harmful health effects (caused by dietary oxalates) . . . Joe's claim of "undisputed benefits" can soundly be debunked.
Balance of Nature® has many ingredients containing oxalates, and some that are VERY high in oxalates including: spinach, celery, carrot, sweat potato, garlic, beet, soy and raspberry.
In stark contrast, Sea of Greens® is a true whole-food superfood and contains virtually no oxalates!
Aside from our belief (admittedly biased) that Sea of Greens® is a far superior product to Balance of Nature®, it is also considerably more affordably priced. All those Balance of Nature® TV commercials are expensive and someone has to pay for them.
Why are fruits and vegetables always spoken in the same breath, as if the combination represents the healthiest superfood?
Although, both fruits and vegetables can be rich in vitamins, minerals and fiber (all good things), in most cases, they are actually NOT rich in vitamins and minerals, due to the sad state of todays top soils, which are mostly depleted of the nutrients needed to support nutrient rich produce.
Furthermore, the powdered ingredients that are typically used in most fruit/vegetable formulations have very little fiber. Not to mention that most fruits are typically very high in sugars (sucrose and fructose, depending on which fruit), which is very unhealthy.
Clearly, fruits and vegetables are not as good as they are said to be, however, the far bigger concern, despite many people being totally unaware, is that many fruits and vegetables are actually quite harmful to health.
The culprit contained in some fruits and vegetables that causes the harm is oxalates (oxalic acid).
Please follow the links below to learn more about oxalates and their poisonous effects:
Does anyone really believe paid testimonials?
Its hard to imagine why anyone would believe paid testimonials, particularly ones as "over the top" as the ones featured in the Balance of Nature® commercials. I personally find them to be obnoxious and insulting to my intelligence, but I guess many others are far less critical thinkers.
They really lay it on so thick . . . for example:
the woman, who talks about how she got her "va va voom" back, and then felt compelled to ask how she could help promote this product
the guy who says that after using Balance of Nature® he has better dreams
Vincent (a nutritionist), who says:

"I'm not a morning person, but after a week of using Balance of Nature® I started geting up early and I started feeling better, because I have so much energy . . . There is something about Balance of Nature® that I need to tell the world about, so here I am."
My intelligence is especially insulted by the commercials featuring founder (chiropractor Douglas Howard):
In one commmercial, Howard has the gall to state that the food, processes and testimonials are all real. As if him saying so will convince anyone.
In another commercial, he feigns spontaneity when he quips:

"The formula that we have is not just fruit and vegetables; and I do take a little bit of offense to that sometimes, because its just thousands of hours studying how to put those fruits and vegetables, in what order and how they can be processed. You have an unlimited number of chemical combinations, that have zero negative side effects and only help and improve the body."

Notice how his quote implies that he has spent thousands of hours researching the unlimited chemical combinations between fruits and vegetable, and that his formula is optimized accordingly, resulting in a product that can only help and improve the body with no side effects.
However if you parse his very carefully scripted statement, you realize that he is not really saying anything of the kind. He really just strings together some unrelated and incomplete sentences, that give that impression, without specifically saying something, that:

the FDA would deem to be an unapproved drug claim
the FTC would deem to be a false advertising claim.
Bottom line: We do not consider Balance of Nature® a good purchase choice.
Dietary oxalates can be harmful to health, so why take a supplement that contains high oxalate levels?
This product is very expensive.
Any product that is sold with such a hard sell, should be avoided like the plague!

Read Less
Sea Veg® and Super Sea Veg®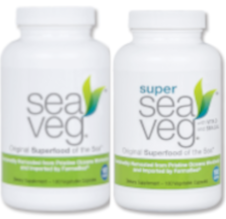 Sea Veg® and Super Sea Veg® are two sea vegetable supplement products marketed by FaramaSea®.
Each is available in a 180 count bottle. As far as I was able to ascertain, the difference between the two is that the "Super" version is fortified with additional Vitamin D and calcium.
Sea Veg® sells for $69.95/bottle and is available @ $58.65/bottle (when buying 3).
Super Sea Veg® sells for $79.95/bottle and is available @ $65.30/bottle (when buying 3).
We consider both Sea Veg® and Super Sea Veg® to be good products. And (as is is the case with Sea of Greens®), both Sea Veg® products are essentially oxalate free (which is great).
However, we do consider Sea of Greens® to be a far superior product because, unlike both Sea Veg® products, Sea of Greens®(in addition to sea vegetables)also contains fresh water algae (spirulina and chlorella), which have many important health benefits beyond the benefits that sea vegetables provide.
Furthermore, costing nearly 1/2 the price of the Sea Veg® products, we consider Sea of Greens® to be a MUCH better value, particularly since Sea of Greens® contains BOTH spirulina and chlorella (very expensive ingredients), while the Sea Veg® products do not contain ANY spirulina or chlorella.
Sea of Greens® is a unique, 100% natural, Oxalate-free, Whole-Superfood supplement, containing an optimal blend of seaweed and freshwater algae (with virtually no oxalates).
Sea of Greens
®

Packages
Contains:
180 capsules per bottle (30 day supply)
Suggested use:
As a dietary supplement for adults, take six capsules per day
(preferably three capsules, twice per day).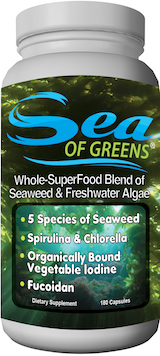 2 bottles

$40.95 each

$81.90
3 bottles

$39.95 each

$119.85
6 bottles

$38.95 each

$233.70
12 bottles

$37.95 each

$455.40
Sea of Greens
®

Supplement Facts
Serving Size: 3 Capsules
Servings per container: 60
Amount per 2 Servings (suggested daily usage)
% Daily Value
Bladderwrack (Fucus Vesiculosis)
750 mg
*
Wakame (Alaria Esculenta)
675 mg
*
Rockweed (Ascophyllum Nodosum)
200 mg
*
Sea Lettuce (Ulva Lactuca)
35 mg
*
Dulse (Palmaria Palmata)
35 mg
*
Spirulina (Arthrospira Platensis)
1,050 mg
*
Chlorella (Chlorella Vulgaris)
1,050 mg
*
Other ingredients: 100% Vegetable capsule, L-Leucine
Directions
As a dietary supplement for adults, take six capsules per day
(preferably three capsules, twice per day).
---
Disclaimer
Statements contained herein have not been evaluated by the Food and Drug Administration. These products are not intended to diagnose, treat and cure or prevent disease. Always consult with your professional health care provider before changing any medication.
Other Products Available from: NHS Global Distributors, Inc.